Weddings at the Gherkin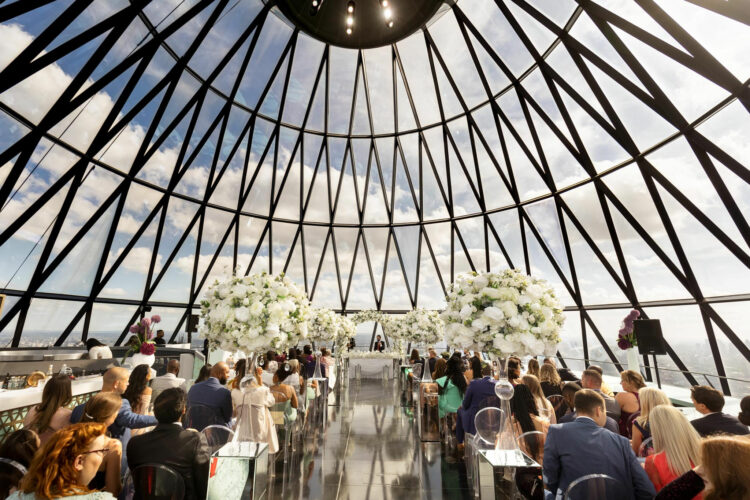 YOUR BIG DAY IS OUR BIG DAY
As the sun sets, London lights up around you and celebrations get into full swing. Start your lifelong journey together among spectacular views of London at this icon of modern architecture.
Weddings at The Gherkin can be as individual, distinctive and unique as you wish; you can be assured we will make your big day everything you have ever imagined. As you and your partner start your new journey together, our wedding experts and attentive events managers will guide and provide unrivalled attention throughout.
Our exclusive event spaces on levels 39 and 40 are licensed for civil ceremonies for up to 130 guests. Host an intimate seated dinner, or a glittering cocktail reception for 260 guests.
Images by www.chrisgilesphotography.com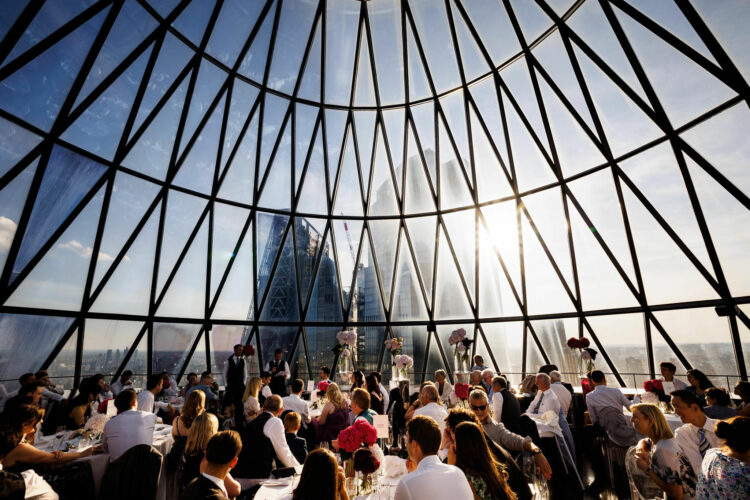 CAPACITIES
Level 39 and 40 can be hired exclusively for evening and weekend events. For weekday events, level 40 is available for hire.
LEVEL 40 ONLY
160 reception 140 banqueting 140 theatre 70 cabaret 70 semi-exclusive reception
LEVEL 39 AND 40
260 reception 140 banqueting 140 theatre 70 cabaret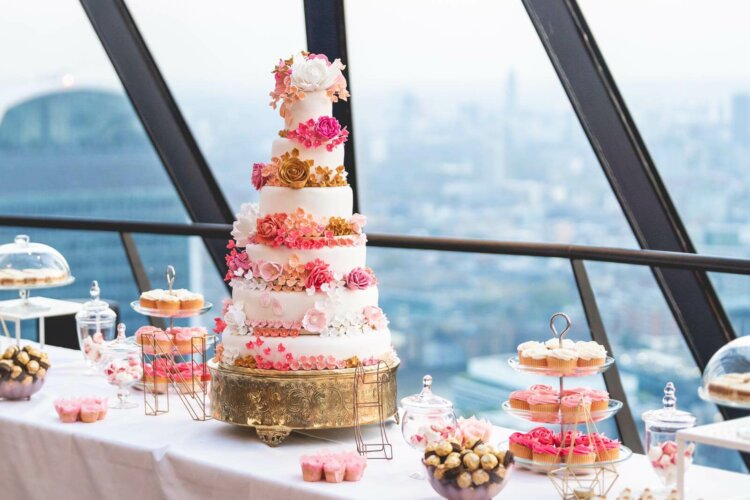 PRIVATE DINING ROOMS
For a more intimate wedding, our sky-high private dining rooms on the 38th floor are ideal for smaller dining experiences and celebrations. Our adaptable private dining spaces can be hired as single rooms, or combined as double rooms and shaped.
CIRRUS, NIMBUS AND CUMULUS
18 boardroom 25 theatre 25 reception 20 banqueting
STRATUS AND ALTO
24 boardroom 35 theatre 35 reception 30 banqueting
CIRRUS-STRATUS AND ALTO-CUMULUS
30 boardroom 60 theatre 60 reception 50 banqueting
WHOLE FLOOR HIRE OPTIONS AVAILABLE ON REQUEST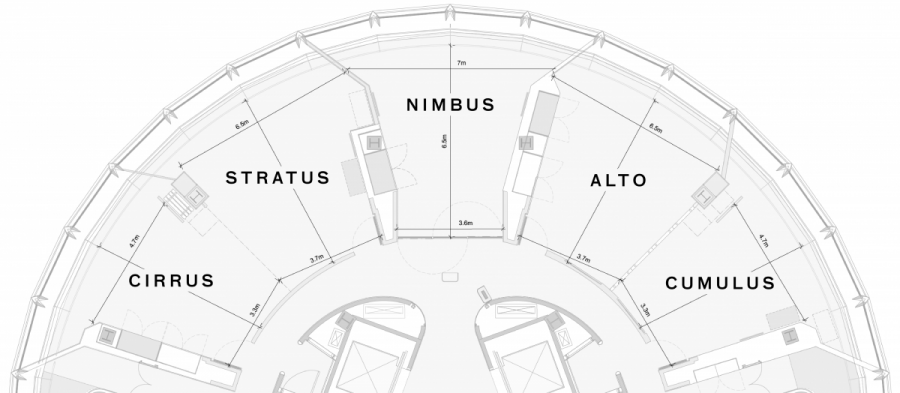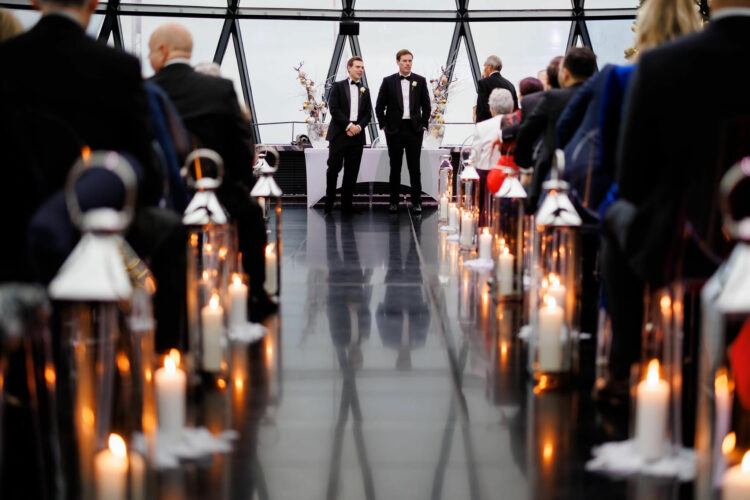 Key Features
Civil Ceremony Licence
Exclusive use
Landmark
Licenced until 3am
Entertainment licence
Dance floor
DJ facilities
Disabled facilities
Seated meal facilities
In-house catering
Alcohol licence
Corkage option
WiFi
Air conditioning
Testimonials
All you need is love, and a fantastic venue for your wedding!  The Events and Catering teams were exceptional, the views (both during the daytime and in the evening) were  spectacular, and we had a truly magical day from start to finish. We wouldn't hesitate in recommending Searcys at the Gherkin.

by  Karen Ann & Stephen Josephides
Our wedding is one that our guests still talk about as being incredible and it was largely because of the venue. The views are breathtaking during the day – having our ceremony in the sky above london. The beautiful sunset and then at night the lights of central London that surround you through the 360° created a both a glamourous and magical atmosphere. All this in an iconic internationally renowned building. Couldn't recommend enough. The practical side is perfect too. No weather conditions affect the day, everything in the venue is taken care of by the staff centrally so we did not have any stress or organising to do on the day at all and could take in every moment of an incredible day. No herding around our guests to different places which maximised our day. We are passionate about food and it was amazing! The menu was fantastic and the choices we made were delicious and like nothing our guests has tasted anywhere else. If you're reading this and wondering whether or not this venue is for you, so was I. Go see it, you will fall in love with it like I did!

by Philip & Jonathan
Erin, I hope you're well. Just a huge and heartfelt thank you for all your work in recent months. Saturday was just a beautiful, life affirming, glorious day. Everything ran smoothly. Thank you for being so wonderful about everything and please do keep in touch. Many thanks Mobeen

by Mobheen & Tim
Dear Searcy's, I was married last Saturday at the Gherkin and I am wasting no time in complimenting your venue and your staff, especially Katie Wells, your fabulous Wedding Planner. She was the most responsive event manager I have had the pleasure to work with. (And I have worked with a few!) Nothing was too much or too little, every concern was dealt with quickly and considerately. Katie did her up most to meet every request, (no matter how strange!) and did so in a friendly, efficient and assuring manner. She clearly is a real asset to your company and certainly made our wedding the huge success it was. Thank you Thank you Thank you. Natalie Wade

by Natalie Wade
Dear Jo, thanks for your lovely email and glad to see you're back. We were shocked when we heard you won't be there as there's obviously an emotional side to planning a wedding like this. Sarah has however been amazing and made us feel safe and calm at all times. The entire day and of course the reception at the Gherkin have been a million times better than we could ever expect. It made me cry to come back yesterday not wearing my dress anymore. Our guests loved the surprise and actually no one guessed where we would take them. They were all in awe and called it an epic event! We couldn't be more proud. Again, thanks for all the hard work Jo! Looking forward to see you soon! Lysann

by Lysann Beu
Dear Jo Thank you for your follow email and more importantly for all your help in arranging what was a wonderful day for us – your work (and Kenan's) was faultless. Wish you luck in your career with Searcy's, you're a real credit to them! Kind Regards Andrew Griffith

by Andrew Griffith